Join Our Smile Membership Today.
An insurance alternative and a healthier smile are within reach! Join today and enjoy free exams, x-rays, and cleanings, plus 25% off all other dental services.
Our smile memberships are an exclusive agreement between our practice and our patients. It's just you and us, no greedy insurance companies to deal with. Our memberships provide access to quality, affordable dental care without dealing with the hassles of dental insurance. Your membership will allow you to take control of your oral health. It's perfect for…well, everyone! – Large Families, Families without Benefits, Contract or Freelance Employed Parents, Small Business Owner Parents.
Why Membership Makes Sense
| | Smile Membership | No Insurance | Traditional Insurance |
| --- | --- | --- | --- |
| Annual Exams | Included | $100+ | Deductible Required​ |
| Annual Cleanings | Included | $200+ | Deductible Required​ |
| Annual X-Rays | Included | $100+ | Limited Per Year |
| Fluoride Treatments | Included | $20+ | Coverage Varies |
| Emergency Visit | Included | $100+ | Coverage Varies |
| Denied Coverage | Never | Never | Often |
| Treatment Discount | 25% Off | None | None |
Membership Dentistry has arrived at Thai-An Doan, DDS!
We value your loyalty; for our patients without dental insurance, we've launched our membership plan to simplify how you access and pay for your dental care.
Become a member today and enjoy free exams, x-rays, cleanings, and fluoride treatments, plus 25% off all other dental services at Thai-An Doan, DDS.
Serving communities around
We have a membership for every smile
Cleanings, Exams & Fluoride
Cleanings, Exams & Fluoride
$50 Off Each Additional Family Member On Annual Plans.
Whether you need a membership for yourself or your entire family, we've got you covered.
Don't take our word for it, hear what our current patients think!
Brought my 2 yo daughter here last week for her first dental visit and she loved it. To be honest, she was wonderfully distracted by the movie that was playing on the TV and allowed Jenny (hygienist) to take xrays and do the cleaning. I just sat back and watched from afar in amazement as Dr. Doan and her team coached my kid to open wide and even scale some tartar off. I wanted my kid to just get use to the dental atmosphere and see that going to the dentist is fun and just a normal thing we do - they definitely achieved this goal for us! Looking forward to our next 6 month cleaning!
The whole staff has been amazing each time we go. I was able to take my 5 and 3 yr old for cleanings at the same time and my kiddos really enjoyed it! I explained that my kids like to brush independently but don't do a great job so they sent us home with a little timer so that I have time to encourage them to clean every quadrant of their mouth. Great experience I was not expecting at a dentist office!!
My daughter has been going to Dr. Doan for several years. Dr. Doan and her staff are absolutely amazing. I feel very comfortable talking about any concerns I have regarding treatment and Dr. Doan listens and gives me all my options. Dr. Doan has done a few procedures from cavities to extractions over years for my daughter and always made sure I understood exactly what was going to happen during the procedure and what to expect post treatment. I always recommend her to family and friends.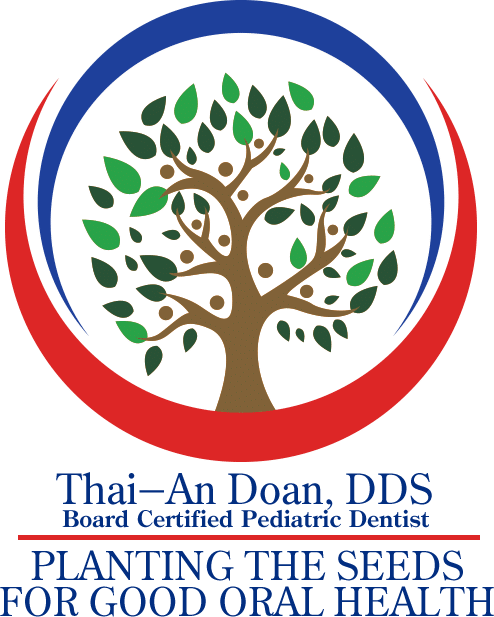 Need an appointment at our office?
This is NOT dental insurance rather a membership plan. This membership serves as an exclusive agreement between our patients and our practice. This membership plan cannot be used in conjunction with dental insurance or any other discounts. This plan is only valid at this dental office. Plan fees are subject to change.
• If you are a current patient enrolling in the Smile Advantage Plan, your account MUST have a ZERO balance.
• The plan is not retroactive and will become effective on the date of enrollment.
• It is the member's responsibility to utilize the services included in this agreement within their plan year limit. Any unused benefits will not be carried over or refunded. The plan is non-transferable.
• In exchange for the care provided under this plan, the covered member agrees to pay all balances in full at the time of treatment. If treatment is not paid in FULL at the time of service, the treatment discount is void.
• The member has the right to opt out of the plan for a full refund within 30 days of enrollment as long as treatment has not started. If ANY treatment has been performed or if 30 days from enrollment have lapsed, NO refund will be given. The member will be responsible for paying the remaining balance regardless of services rendered.
• Services are based upon a plan year. The full membership fee is due on the date of enrollment and eligibility will begin at that time remaining active for one year. Your annual membership will be auto-renewed at the end of each plan year. If your dental practice allows monthly payment options, an enrollment fee and surcharge may be applied.